Strong Tummies specializes in
Integrated, Functional Core Rehabilitation
(both Postpartum and Prenatal)
Did you know that some of the symptoms of a Weak Core are:
Chronic Back Pain; Constipation/GI Issues; Diastasis Recti;
Weak and/or Dysfunctional Pelvic Floor
Do you know what muscles are actually in your Core?
(Don't think 6-pack abs!!)
Had a baby recently… or many years ago
and don't feel quite "back together" or weak?
Having a baby and feel like your tummy is torpedoing out
and you have no control over it?
Been told you have Diastasis Recti but have no idea
what it is or what do about it? 
You have come to the right place!! Call us at 847-420-976
We can help!
We are proud to be a
Professionally trained in
The Tummy Team Core Rehabilitation
approach to help men and women
restore their core.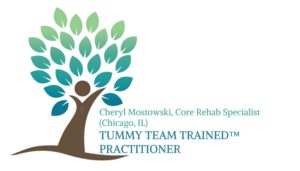 Strong Tummies
847-231-2466
StrongTummies@gmail.com
Save
Save
Belly Check
Contact us for a Belly Check to determine if you have a weak, dysfunctional core or a diastasis recti (separation of the muscles).  $15.00 Contact us at 847-231-2466 to schedule.
Gift Certificates
Contact Strong Tummies for a gift certificate for that special someone.  These are great as presents for new moms, moms that are 1-70 years postpartum, that special man in your life, athletes, or your mom or dad that need core strength and athletes.  Click here to order.