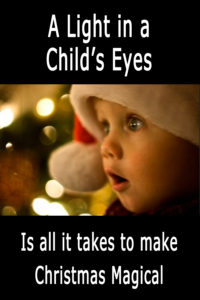 The eyes of a child are so expressive. They haven't had the experience to put on a mask so they are able to show delight, anger and even hunger with just a look.
Just think of a child whose family is in crisis right now. These children are just wondering if they are going to get a Christmas at all. One of the organizations that many in our church help with is called Safe Families (safefamilies.org). Safe Families is an organization that steps in when a family is in crisis and provides a safe, temporary place for children to live and stay safe while their parent(s) gets support.
The three objectives of Safe Families for Children are:
Keep children safe during a family crisis such as homelessness, hospitalization, or domestic violence in an effort to prevent child abuse and/or neglect.
Support, and stabilize families in crisis by surrounding them with caring, compassionate community.
Reunite families and reduce the number of children entering the child welfare system.
Because children and their families are especially important to us at Strong Tummies, a portion of our sales are going to be given to this worthy organization to help provide for a family in crisis. Please know that your purchases are going to help more than just your family with better help for you. It will also be helping a family in need and bring Christmas magic to a child.
Thanks,
Cheryl