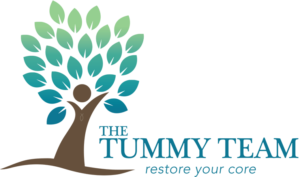 On Line Rehabilitation Program
If you do not live close enough to come in for an individual session TheTummyTeam has GREAT online programs for Core Rehabilitation, Prenatal and Postnatal Rehab, and will walk you through Anatomy, Exercises, Splinting, Alignment, Stretches, and so much more!
Healthy Exercises Right in your Own Home in your Timeframe!

For those of you who have finished (or even are "in the process"….) our Core Rehabilitation Program and are asking "Now What"….."What CAN I do for tummy safe workouts so I don't undo (or sabotage) everything I have worked so hard to do?"
Bethany Learn and Fit2B!  It's an online gym in the form of a workout video library of almost 100 exercise routines (!!)  including Pilates, Yoga, Pre-natal, weights, Tabata, functional cross training, stretching, ball workouts, relaxation, and more!  ALL of the workouts are "Tummy Safe".  She demonstrates proper form in layman terms… and every single one of their workouts  strengthens your abs!  They focus on the transverse abdominus while also working the entire body in every exercise routine.
Do as much or as little time as you like… any time of the day (or night for you night owls out there!)  I LOVE this site… her routines are simple… yet can be intense – you choose … yet TUMMY SAFE!!  Click here and explore Fit2B.Us.
Squatty PottyⓇ
Do you know that for correct elimination we are designed to squat?  If you have problems with elimination (constipation, etc.) click on the picture and check out the Squatty Potty… it works!