Description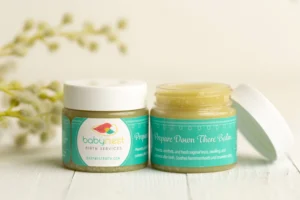 This Prepare Down There Balm is handmade and based on the power of healing herbs and moisturizing oils. It has been  created to gently prepare the vaginal area for birth and bring healing to your postpartum.
Benefits
Moisturizes and reduces the risk of vaginal tearing at birth
Seeds healing of stitches and tears
Comforts tender and sore perineum
Naturally antibacterial
Hemorrhoid relief
Serves as a natural diaper rash balm
Minimizes and speeds healing of cesarean scars
Other Diaper Bag Benefits
Heals everyday cuts & scrapes
Soothes bug bites
Relieves sunburns
A wonderful face cream to help reduce wrinkles (those well-intentioned, loving parent lines)
Soothes eczema
Instructions for Use: Pregnancy: Moisturize the perineal area before bedtime in pregnancy
Postpartum: Use liberally after birth to bring comfort and speed healing of the vaginal area. For even more benefits in reducing the risk of tearing, use along with Ease The Way Spray in pregnancy.
*Coconut oil *Cocoa butter, *Olive oil, *Comfrey, *Calendula flowers, *St. Johns wort, *Lavender, & *Beeswax
*Organic ingredients