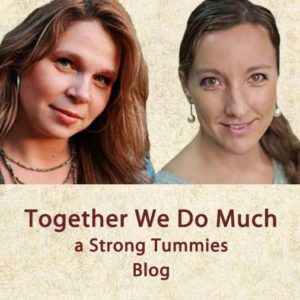 "The whole is greater than the sum of its parts" is an often used phrase in business that means it is better when we work together than if we work individually.  That is so true even in our business.  There are many people trying to sell you this program or that thing to fix a diastasis.  We at Strong Tummies research these ideas and products and when we find any in particular that are medically sound, easy for you to use or do, and affordable we bring them to you.
We always recommend seeing a local professional first so you have hands on training and another set of eyes on what you're doing and what your body needs. But when you live too far, we recommend you check out two of our favorites.  The Tummy Team started by Kelly Dean has some excellent online classes you can use for your education and rehab.  And we all understand the time constraints moms are under, so sometimes online classes done at your own home on your own timetable – even at midnight if that works for you –  are the only thing that fits your schedule.  How simple is that?
The Tummy Team offers 7 online courses for the busy mom:
Core Foundations – 8 Week Online Program $199.00
Prenatal Core Training – 6 Week Online Program $149.00
Prenatal Crash Course – Online Program $79.00
Floor of You Core – 8 Week Online Program $199.00
Core Preparations for Cesarean Birth – 4 Week Online Program $99.00
Core Preparations – 4 Week Online Program $99.00
Core Integrations – Online Program $199.00
As you know from my website, I am a Tummy Team Practitioner and trained personally with Kelly Dean in her Washington State offices.  I can't recommend her enough as a knowledgeable professional, who shares my passion to educate moms, but is also a kind and caring woman with an amazing personal testimony in the things we teach. She is a physical therapist who took her PT background and created a program with the backing of years of experience helping men and women strengthen their core and heal a diastasis. So if you live too far to work with us, please check out her online programs to learn to heal your body and get strong for life again.
People often ask "where do I go from here" as they heal in my programs. A great resource for ongoing fitness is through online classes with Bethany Learn at Fit2B.  After you have healed with me (or The Tummy Team) you want to be sure you don't hurt the progress you have made, so Beth has wonderful various monthly or yearly memberships with a ton of individual fitness routines, clearly marked for every stage of your continuing journey.  Every workout is designed to restore, rebuild and reshape your body without hurting it in the process.
Fit2B Member, Traci Tyne Hilton, Author of "Foreclosed" says: "I'd say the best part of fit2b.us is the instructor, Bethany Learn. She's a true, qualified professional. And she's also a real true mom with a home and pets and a life.
Fit2B Member, Kandi says:  I have work to do but I am excited about it! And that's because I have Fit2B and Cheryl to show me safe exercises that WORK!
The wise woman Helen Keller once said, "Alone we can do so little; together we can do so much."  Join us and our partners as we work toward the healthiest you possible.
The Tummy Team is offering 30% Off select products from 11/13/17 to 11/17/17.  This includes splints, vouchers and Rehab Program.  Click here to go to the sale.
Fit2B is offering a special price on their new Fit2B Girls eCourse.  Regularly $39.99 now on sale at $29.99 until 11/25/2017  Click here to go to this sale.
Save